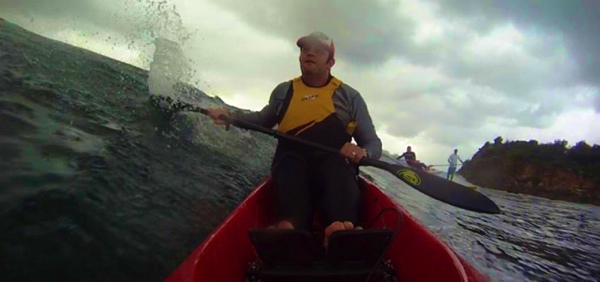 I've spent the past few months learning to paddle my Stellar SR surfski and taking part in races, whilst building a considerable rivalry with Nat from Sydneysurfski.com. Whilst the rivalry has been heated and has pushed us to train much harder, it has taken us away from the true joy of recreational paddling.
You see, Nat is one of my oldest friends – we lived together whilst at Uni, we played rugby together, we both moved to Sydney from Adelaide, and now we paddle together. Whilst the rivalry has been amusing, it has masked the fact that usually we're just good friends. So as the summer racing season drew to a close, we took the opportunity to get out together for some pure fun in the surf. A morning of laughter, excitement and adrenaline.
We dropped our surf skis in at Manly Beach and paddled out to the Shelly Beach point, where a nice little 2 footer was rolling in. Despite a southerly change and building surf, we raced about catching waves, dropping in on each other for laughs and trying hard not to spear any SUP riders with our 20 foot long fast-moving fibreglass torpedoes! It was a day that reinvigorated our paddling and our friendship and reminded us why we took up paddling in the first place.
We'll still train and race each other of course. But we'll always come back to a little soul surfing when the racing is over. Cheers, FP