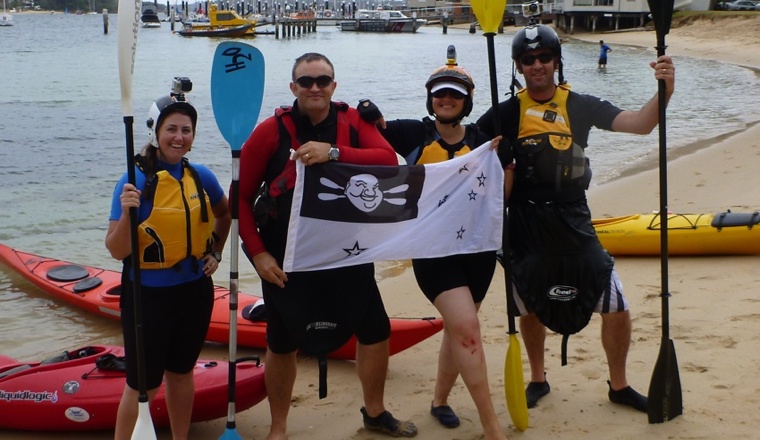 Team Fat Paddler is a growing organisation of paddlers under one banner who take on challenges – charity challenges, personal challenges, and even some silly challenges. Officers of Team Fat Paddler earn their commission through continued participation in such events – the more events they are a part of, the higher their rank.
Team Fat Paddler Active Officer List – Men & Women of Honour, Humour & Humility

Admiral of the Fleet, Sean Smith ADML (Sydney, Australia)
HC09, BB10, KK10, PP10, HC10, WD11, KK11, BB11, PFTP11, HC11, SS12, BB12, KK12, MOC12, HC12, BB13, KK13, RBC13, MC13, HC13, BB14, OWH14, KK14
Sean is the original Fat Paddler and loves surfski surfing, paddling near cliffs and time with his girls. He spends a fair bit of time on, in and on occasion, under the water!

Vice Admiral Alan Jones VADM (Sydney, Australia)
KK10, WD11, KK11, BB11, PFTP11, HC11, SS12, WD12, BB12, KK12, HC12, RBB12, KK13, RBC13, OWH14, KK14
The BigYahu is a big man with a big fast boat. He loves nothing more than paddling alongside his team members – unless it's a race that is. In which case he'll be 30mins ahead of everyone else.

Rear Admiral Nat Bradford RADM (Sydney, Australia)
KK11, BB11, PFTP11, PP11, HC11, SS12, BB12, KK12, MOC12, HC12, KK13, B2B13, RPM13, MOC13, KK13
Has followed the Fat Paddler into danger many times before – first on the rugby field, and now on the water. Is the Propaganda Officer for the team and loves his ocean ski.

Rear Admiral Paul Grummett RADM (Sydney, Australia)
HC09, KK10, PP10, HC10, KK11, BB11, PFTP11, HC11, BB12, KK12, HC12, MC13, HC13
Grumm is one of a handful of Brit paddlers in the team and loves wine, rudders and boats that can turn. As a high ranking officer, he is expected to lead by example. Especially at the pub.

Rear Admiral Meg Thornton RADM (Sydney, Australia)
SS12, BB12, HC12, HC12, RBB12, MM12, SS13, BB13, RPM13, STL13, MC13, BB14, OWH14
As the first Aussie female active paddling member of TFP, Meg has been superb at fitting into the team. She races, she falls out, she drops her kayak and breaks it… and all whilst having a good laugh!

Commodore Angelo Vassiliades CDRE (Dubai, United Arab Emirates)
HC10, WD10, BB11, PFTP11, SS12, BB12, KK12, HC12, RBC13, HC13
Gelo is the poster boy for the team. Loves all things Greek but has a habit of destroying himself during events. Rumour has it he now has a bionic shoulder after the Warrior Dash "incident".

Commodore Ben Eagleston CDRE (Sydney, Australia)
KK12, SS12, HC12, RBB12, SS13, BB13, KK13, RBC13, HC13, WDN13, BB14, KK14
Ben is a truly big man paddling his way to success. A long term Groupie of TFP, Ben's persistence with his campaign to join Team Fat Paddler culminated in a formal invitation being issued at the 2012 Kayak for Kids. We expect big things from Ben… literally!

Commodore Dee McWhirter CDRE (Sydney, Australia)
HC12, RBB1, SS13, BB13, KK13, STL13, MC13, HC13, BB14, OWH14
When not smashing herself in a Crossfit box somewhere, she can often be found paddling her surfski and complaining about how sore she is from the gym the day before. Probably the toughest member of TFP!

Commodore Brett Burns CDRE (Sydney, Australia)
AHC09, AHC10, BB11, HC11, SS12, BB12, KK12, HC12, HC13, KK14
Burnsie is an ex-Navy chef and the official chef of Team Fat Paddler. Has produced outstanding meals during events including lamb sausages and Canadian pancakes with bacon and maple syrup.

Commander Tanya Manwaring CMDR (Sydney, Australia)
RBB12, SS13, KK13, STL13, HC13, BB14, OWH14
Tanya joined TFP in the aftermath of HCC12, claiming she only hung out with us to get a few hours relief from her kids. Since joining Tanya has been blooded (literally) on Gelo Cliffs, sealing her membership in the TFP Hall of Fame.

Commander Grant Mascord CMDR (Sydney, Australia)
HC12, SS13, KK13, MC13, HC13, BB14, KK14
Grant does something with buses we think, but when he's not delivering big Volvos around the country he's likely to be paddling fast in some filthy stretch of water like the Cooks River. If you shake his hand, we suggest antibiotics afterwards.

Commander Mike Stelzer CMDR (Sydney, Australia)
PFTP11, HC11, KK12, HC12, OWH14, KK14
Mike, otherwise known as Inspector Gadget, is the logistics specialist in the team. No matter what you need, for any task, at any time of day, just ask Mike. He'll reach into a pocket and produce the perfect gadget for the task!

Captain Rob Manning CAPT (Sydney, Australia)
HC12, SS13, MM12, BB13, MC13, HC13, BB14, OWH14, KK14
Rob seems like a friendly laid-back guy but he's actually a Terminator in our midst. Don't train with him, it'll really, really hurt. And I'd hate to think what he'd do to you if your name was Sarah Connors.

Commander Brian Partridge CMDR (Adelaide, Australia)
FIC12, B2B12, RPM12, HCC12, B2B13, RPM13
He loves skis, beers, and bbq. He works in the mines of WA. And he lives in the City of Serial Killers. If a love of beer and sausages didn't sell him in, fear of being stuffed into barrels brought out the welcome mat.

Lieutenant Commander Andrew Mathers LCDR (Sydney, Australia)
HC12, SS13, BB13, RBC13, RPM13
Unlike most of us, Andrew is a highly accomplished paddler. If you're lucky, he'll casually drop into conversation the time he paddled across Bass Straight from Tasmania to Victoria. We'd hate him, but he's good value and not shy of smashing an egg and bacon roll.

Lieutenant Commander Dave Mogan LCDR (Sydney, Australia)
KK12, SS12, SS12, KK13
When the Mogo isn't jet-setting around the world setting up television infrastructure at international motor sports events, he's drifting around Sydney Harbour on a kayak. When he's not falling off that is.


Lieutenant Commander Mick Rees LCDR (Sydney, Australia)
HC12, SS13, STL13, MC13, HC13
Mick has that motorcycle-riding enforcer look about him, unless he's paddling, when he looks more like a motorcycle and kayak-riding enforcer. He smiles a lot at you… but then again so do lawyers and sharks!
Lieutenant Ben Dibley LEUT (Sydney, Australia)
SS13, BB13, KK13
Ben is not only one of the fastest paddlers on the TFP roster, he's also an expert at repairing damaged skis. A perfect fit, plus rumour has it he doesn't mind being paid in egg & bacon rolls….

Lieutenant James Vowles LEUT (Murray Bridge, Australia)
HC12, B2B13, RPM13
The tall, vet from country SA has one of the weirdest paddling styles we've seen – long slow strokes with a catch starting almost at the nose of his ski, which looks like he's moving at snails pace. It's deceptive, because he tends to break the sound barrier!

Sub-Lieutenant Tom Blunt SBLT (Sydney, Australia)
BB14, KK14
Tom isn't exactly fat. We've had to get custom tshirts made for him since we've never placed an order for a "Medium" size before. That said he makes up for his lack of girth with a bunch of attitude, most of which is directed at the other member of TFP that he is related to. Trust us when we say it's a fun dynamic!

Sub-Lieutenant Michael Lieberman SBLT (Sydney, Australia)
BB14, OWH14
Mike is a Fat Paddler success story. Once weighing slightly more than a full cement truck, through paddle training and more he's now lost buckets of weight and pretty much smashes all of us in competitive surfski races. Look out for his sleek carbon surfski … it's a menace on the water!

Sub-Lieutenant Darren Kable SBLT (Sydney, Australia)
HC12, RBC13
Darren came to our attention during the Summer Series of 2011/2012 – he's fast on the flat but thankfully falls out a lot when it gets a bit rough. He's been known to smash anything with egg or bacon in it, which made us immediately like him.

Lieutenant Pete Corbet LEUT (Geelong, Australia)
HC11, HC12, HC13
Pete is a mysterious agent doing shady things at discreet hidden compounds across the country-side. Some say he is developing a prototype military-spec ski for the government, whilst others say he is "interrogating" puppy-farm owners in the fight against animal cruelty.

Midshipman Josh Bucholtz MIDN (Sydney, Australia)
KK13
Josh traveled with Team Fat Paddler to Mauritius where he met female South African paddlers and decided he needed to be a part of the sport! He also happens to be a qualified diver which is pretty handy considering how badly he paddles.

Sub-Lieutenant Travis Frenay SBLT (Robertson, Australia)
HC11, HC13
Trav is the canoeists canoeist. With over twenty years paddling, portaging and exploring the outdoors, Trav is the perfect Scout and handy to have onboard for any outdoors mission. He also owns Paddle & Portage Canoes, importers of awesome Wenonah canoes.
Midshipman Martyn Riddle MIDN (Sydney, Australia)
SS12
The Riddler's application for TFP was sealed with a video of the worst seal entry we've ever seen. Not only did he do it once, but twice, proving his credentials as enthusiastic but a little mad, a perfect combination!

Midshipman Robby Cook MIDN (Sydney, Australia)
HC12
A paddler who plays with airplanes, Robby is a fast surfski paddler with far more enthusiasm than real skill. This makes him a perfect addition to Team Fat Paddler, although we secretly think he's probably a tad better than he lets on.

Midshipman Mark Moran MIDN (Sydney, Australia)
HC13
Mark is a dirty Englishman who supports sporting teams of disrepute, but he doesn't mind a paddle or two. He and FP have gone toe to toe in a number of sports and FP is particularly looking forward to watching him in pain during paddling events to come!

Midshipman Lewis Wylie MIDN (Sydney, Australia)
HC13
Lewis loves moving water, pushing himself in multiple white water disciplines including C1, K1, downriver racing, play -boating and slalom. He's pretty good at all of the above. He also loves chasing women, but he's not so good at that! He's hoping to get some romance tips from the older, more successful *cough cough* TFP crew…
Past Team Fat Paddler Officers
Lieutenant Commander Nathan Lane LCDR – PFTP11, HC11, WW12, KK12
Lieutenant Commander Ned Stephenson LCDR – HC09, KK10, KK11, HC11
Sub-Lieutenant Sacha Ward SBLT – AKK10, AHC10
Sub-Lieutenant Simon Lewer SBLT – KK11, HC11
Sub-Lieutenant Kassie James SBLT – MOC13, STL13
Midshipman Steve Johnston MIDN – COD11
Midshipwoman Samantha Tombolan MIDN – COD11
Midshipman Ben Loiterton MIDN – PP11
Midshipman Darryl King MIDN – HC09
Midshipman Tim Donnelly MIDN – HC12

Participating Events
OWH – Open Water & Harbour Series (various events, NSW, Australia)
WDN – WomDomNom (Macquarie River, Australia)
MC – Myall Classic (Tea Gardens, Australia)
STL – Stroke the Lion (Sydney, Australia)
RPM – RPM (Murray River, South Australia)
B2B – Back 2 Back (Swanport, South Australia)
RBC – Rose Bay Challenge (Sydney, Australia)
KK – Lifestart Kayak for Kids (Sydney, Australia)
MM – Murray Marathon (South Australia)
SS – Summer Series (Sydney, Australia)
RBB – Reclink Bridge to Bridge (Sydney, Australia)
MOC – Mauritius Ocean Classic (Tamassa, Mauritius)
WD – Warrior Dash (Sydney, Australia)
FIC – Four Island Classic (Adelaide, Australia)
PP – Paddle for Pete (Sydney, Australia)
COD – Conquer the Dog (Ontario, Canada)
PFTP – Paddle for the Planet (Global)
BB – Bridge to Beach (Sydney, Australia)
HC – Hawkesbury Canoe Classic (Sydney, Australia)
Commission Structure (Rank by events participated in)
0 – Seaman/Seawoman (SMN)
1 – Midshipman (MIDN)
2 – Sub Lieutenant (SBLT)
3 – Lieutenant (LEUT)
4/5 – Lieutenant Commander (LCDR)
6/7 – Commander (CMDR)
8/9 – Captain (CAPT)
10/11/12 – Commodore (CDRE)
13/14/15 – Rear Admiral (RADM)
16/17/18 – Vice Admiral (VADM)
19+ – Admiral (ADML) 20 – Admiral of the Fleet (can only be one current serving)

The Fat Paddler ebook – available now on iTunes, Amazon & Kobo.