Barmy beer can boating in the balmy tropical North
Winter in Australia's Southern states is a hard time for paddlers. The sun rises only reluctantly, and does little to warm the cold southerly winds. Rain often tags along for the day, and the cold outdoor showers at your local beach shrink your very soul …among other things. Maybe it would be better just to stay in bed.
But I have a better idea: the Northern Territory. A winter on the Territory's coast is like summer anywhere else — never varying from 26-32C. Winds are mild and seas generally calm. Darwin is five hours from Sydney or Melbourne with Virgin Australia or Qantas.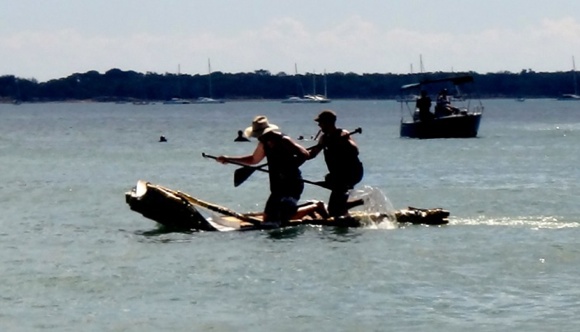 The following day you can be on a guided sea kayak tour of deserted coastlines, paddling outriggers or dragon boats, or kayaking down the pristine wilderness of an ancient gorge. Pack your rash vest, a hat, some sunnies, SPF 30+ and some old shoes — the rest can be rented when you arrive.
But wait, there's more, for in Darwin in the middle of July, all of Team Fat Paddler's interests come together in the most wonderful way — paddling, competition, fried meats and beer… lots and lots of beer. For Darwin in July is the location for the Darwin Lions Beer Can Regatta.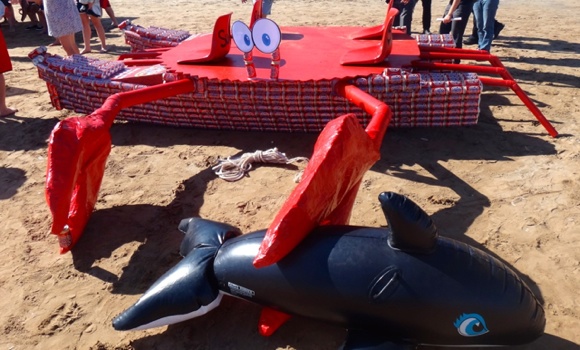 History: Jabiru's a three-can drive
Folklore has it that for generations, Territorians had measured the long distances between isolated towns by the number of beers consumed on the journey. The discarded cans collected in great drifts on the side of the Territory's highways, the depth varying according to the average rate of consumption.
Official records are scarce and memories of those times understandably fuzzy, but around the time Cyclone Tracy razed Darwin to the ground in 1974, discarded beer cans on the side of the road had become a problem. The Darwin Lions Club came up with a creative solution that would promote civic pride, clean the highways and ultimately create one of the most distinctive and unique tourist experiences Australia has to offer — the Darwin Lions Beer Can Regatta.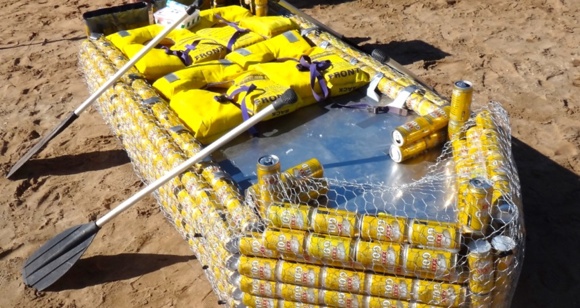 It's as simple as this: get some friends together, build a boat with buoyancy derived largely from drink cans stuck together (beer, soft drink and pre-mix cans all OK), and have a race around a 400m course on the shallow and protected waters of Darwin's Mindil Beach, raising money through donations and entry fees to support various worthy charities. For the official rules, see the end of this story.
Since then the race day has expanded to include a full day's activities for young and old, including short surfski sprints for the kids, sandcastle competition, tugs-of-war for all ages and both genders, thong throwing and an all-in dirty-tricks melee between the beer can crews featuring water cannons, balloon bombs and lots of flour and eggs.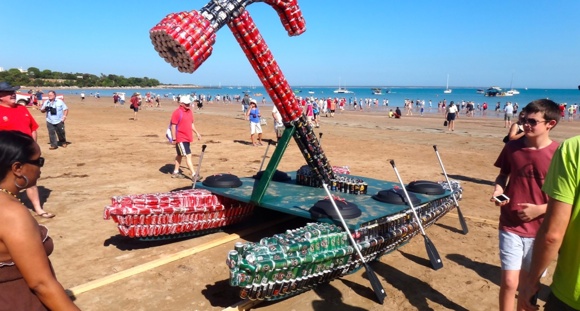 Go along and watch, ya buggers!
You don't need to be in it to win it, because for every one Darwinian competing, there are another hundred or so spectating, cheering them on with a drink in one hand and a very decent feed in the other, courtesy of the excellent Mindil Markets, operating during daylight hours on the same beach during the regatta.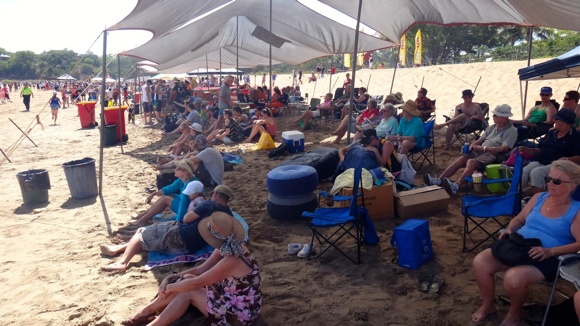 The race day also draws big crowds of tourists from all corners of the globe, and this year at least, a large media contingent from the US, Asia and Europe, all keen to get some memorable footage of this most uniquely Australian of sporting events. This year it was even a prime-time news item in the US!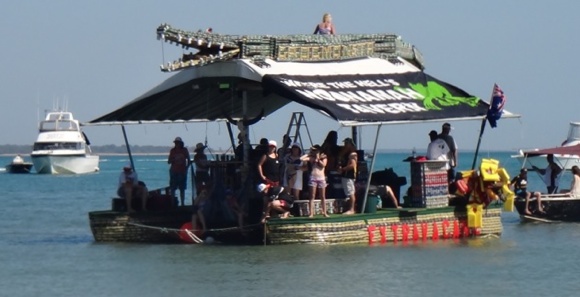 How to build a beer can boat
1. Drink a lot of cans of beer, and keep the cans. Or, go talk to your local pub and ask them to let you take away their empties.
2. Download the Beer Can Regatta's easy plans for beer can boat construction.
The Ten Can-Mandments
1. Thou shalt enter the event in the right spirit.
2. Thou shalt build the craft of cans.
3. The craft shall float by cans alone.
4. Thou shalt not drown.
5. Thou shalt not take the name of the craft in vain. Any craft bearing signs or lettering that may be offensive will be barred.
6. Thou shalt not drift from the straight and narrow and end up at Mandorah.
7. Thou shalt not protest too much.
8. Thou shall honor thy Committee.
9. Thou shalt not commit adultery – nothing really to do with the Regatta, but it gives us an air of responsibility and respect.
10. Thou shalt go back and read the first can-mandment again.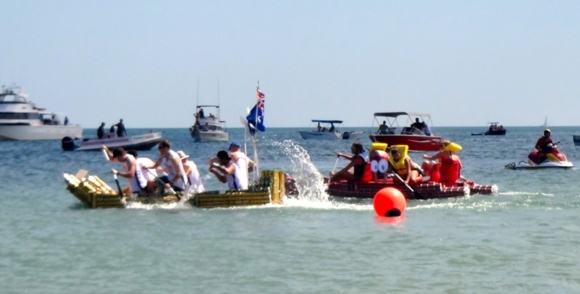 How and when to go
Winter is the most comfortable time of year to visit the Northern Territory (it's famous for the head and humidity of its wet season, prosaically referred to as "The Wet") and the beer can regatta is held in mid-July, when weather conditions are absolutely perfect for spending a day at the beach. Check www.beercanregatta.org.au from about April onwards for the date of next year's event and check TravelNT.com for travel and accommodation deals.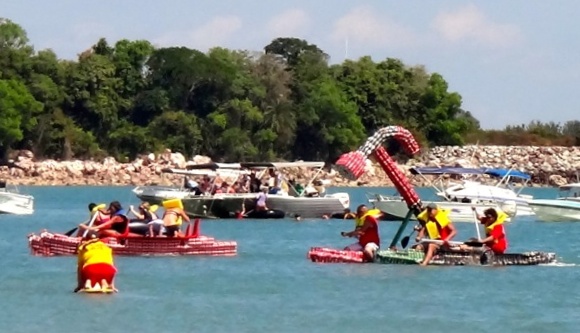 What else to do
As well as the regatta, allow yourself a few days either side to enjoy the tropical north. Darwin itself was voted one of the world's Top 10 Cities To Visit by Lonely Planet in 2012, and for good reason — once you're there, many unique tourism experiences await, including the World Heritage listed Kakadu National Park and Litchfield National Park.
You can go fishing for famously fierce Barramundi, see the world's largest crocodiles on the Adelaide River, shop for Aboriginal arts and enjoy the famously intense sunsets from the Mindil Beach Sunset Markets or at the casual seaside Darwin Ski Club.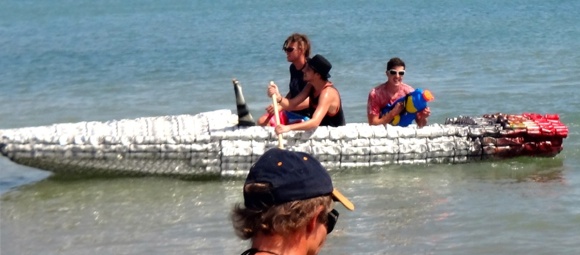 Darwin itself is big enough to be interesting, small enough to be easy to get around. Most of the city's hotels, bars and restaurants are within a few blocks of the city centre, and you'll find everything from down-to-earth pubs to five-star international cuisine within an easy walk. The winter climate in Darwin is so perfect for outdoor sunset drinks and dining, you won't need anything warmer than a short-sleeved shirt or a light dress. You'll pity your friends stuck at home in Melbourne and Sydney, huddled around a fire and rugged up against the cold.
Darwin's newly-revamped Waterside Precinct is a great place to base yourself. We stayed at the Vibe Hotel Darwin Waterfront  where rooms look out over a clean sandy beach netted for your safety, and across from a massive public wave pool. The hotel's own pool has a pool-side bar and restaurant. As well as the hotel, you'll find restaurants, bars and casual takeaway food.
Author:  Alan Jones, Commodore – Team Fat Paddler
(Alan travelled to Darwin courtesy of NT Tourism)