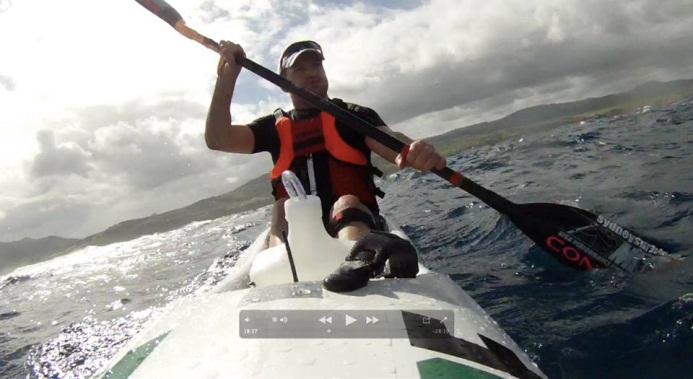 Story from Nat Bradford, posting live from Mauritius
"It doesn't look as big as the first day last year" I said somewhat incorrectly.
Sitting on the beach with Dean Gardiner giving the briefing, we were about to head out on the first downwind run of the week. Dean's group were the less experienced paddlers, with Barry Lewin taking an intermediate group and Dawid Mocke taking the most experienced paddlers.
I had no fear about paddling Mauritius this year, and with the number of new and relatively inexperienced paddlers about, felt right at home.
The pass out of Tamassa at Bel Ombre was bumpy, but not too tricky. It was then I realized just quite how wrong I'd been about the conditions. It was 3 metres plus, and a good 20 knots, coming initially from side on. My confidence level plummeted as I watched paddlers rise on the top of waves and then disappear from sight as they either caught the runs or I fell behind in the trough.
Fellow Team Fat Paddler member Kassie was killing it on her Fenn Bluefin – she was miles in front – an awesome effort for someone who first paddled a surf ski in March this year!
My first swim was the worst, with me needing several attempts to remount – I haven't fallen out in the open ocean in over a year and my remounts really demonstrated this. I certainly had never remounted in conditions like this. Panic was starting to set in as I was unsure just how close I was being blown to the reef.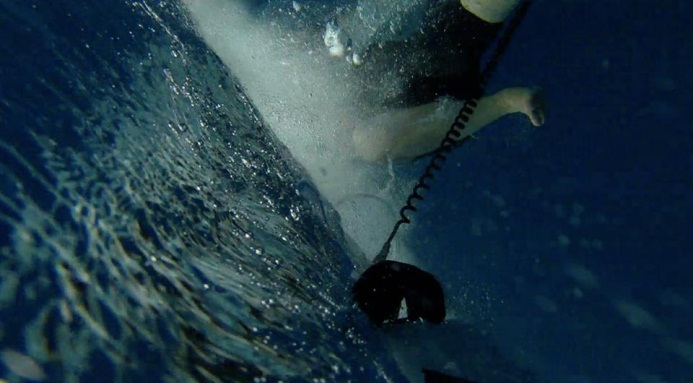 But I needn't have worried as this event is so superbly organized and managed that the sweeper in our group, Travis Smith from Team Fenn, soon paddled up and offered advice on how best to get back in and get moving again. It settled me, and I got underway again. After that, I did swim a few times again and noticed I wasn't the only one.
We all pay our dues at some stage, and it was clear last year's race conditions were kindergarten compared to the university we were experiencing on this practice session.
Mid way through the run to Le Morne, Dean offered some words of encouragement and advice that saw me actually catch a run, and then link it with another and then another… and then I fell off again. But this time I fell off with a smile on my face – I'd actually felt what it was like to get it right and started to have a sense of where to look and when to paddle hard. The speed generated in the big conditions were amazing. Shame my balance and core strength seem to be non-existant this year.
The fun had really yet to start. I remembered my vain attempt to manage the Le Morne pass last year in conditions I thought were big. This year, I actually understood what big really means – put it this way, the chat after today's paddle from the organisers is that Le Morne will be closing out tomorrow – yes, it's that big.
Again, first class fear started to creep in, but the minders in the paddling groups were constantly on hand to assist people find the right line with the least amount of potential carnage. From outside the pass, there's about a 50 metre stretch where the swell and the wind continue from side on as you head towards land, and it's the first chance you really get to see how big the swell is as you've spent the whole paddle looking for holes in front of you. If Dean hadn't been available to yell instructions at me almost every paddle stroke through that, I'd be half way to Madagascar by now. Once through though, the reformed wave inside was a pleasure to catch and felt great, probably because it was the first time I'd felt safe in the last hour.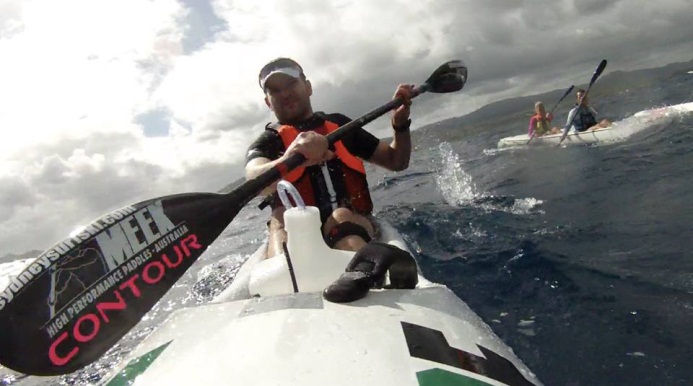 The run to the beach at Le Morne let us less experienced downwind paddlers share our stories of spills, runs and various levels of fear we'd all experienced.
Post paddle, Barry mentioned he'd had to rescue one of his crew from actually going over the falls on a six foot wave early in the paddle. He'd mistaken Barry's repeated instruction of "Left!" for the word "Lift!" and paddled straight towards the reef rather than parallel to it. The paddler ended walking on the reef barefoot, with Barry finding a way in, rescuing his ski (and the paddler) a short time later. Having experienced sea urchin spines in the foot recently, I can only imagine how much a barefoot reef walk musn't have tickled – but he did have a GoPro on his ski, so we're all waiting for the undoubted "wipeout of the week" footage.
To those that did their first downwind in serious conditions yesterday I say a massive congratulations as it was most definitely a baptism of swell. I suspect a few of us will most likely paddle inside the reef today if the conditions "improve"…. Cheers, Nat

The Fat Paddler ebook – available now on iTunes, Amazon & Kobo.