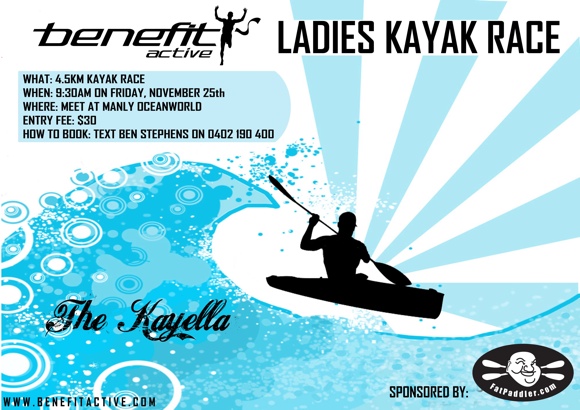 If you spend any time around the Manly area first thing in the morning you may come across a group of people paddling up to harbour beaches, stretching and running. Chances are it'll be Ben Stephens from Benefit Active, putting another group of early morning risers through their paces. Ben has been running these training sessions for some time, combining the fun of kayaking with the benefits of exercise, and all against the magnificent back-drop of Sydney Harbour.
Clearly exercise through paddling is something that resonates with me. When Ben approached me to support his upcoming Kayella, a medium distance kayak race for women with an emphasis on fun, I happily accepted. Amongst the prizes will be a couple of signed copies of "The Fat Paddler", which rumour has it might quite a good read – ha!
The Kayella itself is on Friday 25th November and takes in three of Sydney's beautiful harbour beaches. It's not a competitive race – more of a social paddle for a bit of exercise and a great way to meet some new people. Here's the official blurb:
If you like the sound of a fun and social kayak race that takes you on a tour of three beautiful Sydney Harbour beaches, the Benefit Active Kayella is for you! People of all fitness levels can enter as the race is not competitive. The thing pushing most people is the promise of breakfast at the end overlooking Manly Wharf.
On Friday 25th November at 9.30am, the 3rd Benefit Active Kayella will launch from OceanWorld Manly. The race takes up to an hour and is on the picturesque calm waters of the protected pocket of harbour surrounding Manly. There will be many prizes on offer on the day. There will be catering for the event with an AMAZING breakfast and Ray will be on hand at Ciao Belli Café' for the coffee lovers.
To enter or for more information, contact Ben Stephens (m) 0402 190 400 (e) ben@benefitactive.com
The 2011 Kayella is only one of many exciting activities on the new Benefit Active timetable. If outdoor spin, a staff boot camp or a kayak and running class are more your style, see our new timetable at www.benefitactive.com.