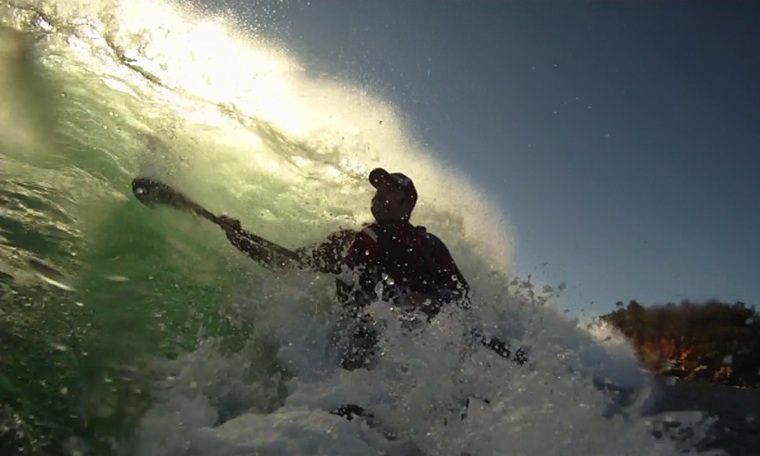 Sean Smith – The Fat Paddler
Sean is a big man chasing weekly paddling adventures. Whether in a kayak, a canoe or a surfski, you can be sure he's out there somewhere with his Team Fat Paddler mates surfing, rock gardening or just splashing around and having a bloody good time.
The road to this point in the story had been long and dramatic.  Sports injuries and two major vehicle accidents left  Sean with an impressive list of reasons not to participate in an active lifestyle, with previous injuries including; nasal fractures (x14!) , femur fracture, femoral head fracture, rib fractures, multiple pelvis fractures, sacrum fractures, hand & finger fractures, ankle fracture, toe fractures and many more too numerous to list.
In early 2009 Sean decided to paddle his way back to good health. The initial goal: the 2009 Hawkesbury Canoe Classic, a 111km river marathon done at night through the NSW country-side.  After 6 months of pre-race training he started the grueling race,  crossing the finish line after 18 hours of torturous paddling to the continued taunts of "Paddle you fat bastard!" from his own land crew (who unbelievably went on to win the official Landcrew Award).
Now he can often be seen paddling in one of his red boats on the various waterways of Sydney, and on occasion, throughout Australia and the rest of the world. Easily distinguished with an ear to ear grin and a bulbous profile, keep an eye out for him on your waterways and stop him and say hello!
The Fat Paddler – the book!
In 2011 Sean's story of recovery was published in the book, The Fat Paddler. The print edition is available in most book stores in Australia and New Zealand. The Fat Paddler ebook is now available internationally via Amazon Kindle, Kobo eReader and the Apple iBookstore for iPad/iPhone.
Team Fat Paddler
In 2009 the very first Team Fat Paddler came together to support Sean's attempt at the Hawkesbury Canoe Classic. That initial group of friends that stood on the banks of the river hurling insults or cooking midnight meals has now grown into a team of paddlers and support crew that all share the Team Fat Paddler five main values:
ADVENTURE – CHARITY – FRIENDSHIP – TOLERANCE – HUMOUR
Members of Team Fat Paddler are awarded rank by participation in sanctioned paddling, charity or adventure events and are then listed on the Officers page. In between events however there are weekly adventures and missions that usually involve a touch of fear, a dash of adrenaline and liberal serves of coffee and egg & bacon rolls.
Fat Paddler in the Media
5 October 2012 – A local story highlighting the Hawkesbury Canoe Classic ran in the Hornsby Advocate before being syndicated nationally across the News Ltd national network on sites such as the Daily Telegraph.
26 August 2012 – Video featured on international surski site Surfski.info as it's Video of the Week.
16 July 2012 – Fat Paddler's adventures in Mauritius covered by Mauritius Tourism site, VisitMauritius.com.
1 June 2012 – Fat Paddler's trip to Mauritius announced by Shake It Up (Parkinsons Disease research foundation).
13 December 2011 – "Berowra Waters a favourite for Fat Paddler" – local story in the Hornsby Advocate.
26 August 2011 – Book review on ABC National Radio by Clare Calvet.
23 July 2011 – Feature story in the Sydney Morning Herald. Full Story Here.
7 March 2011 – An interview on ABC National Radio show "Life Matters" with Richard Aedy about career change quickly turns to paddling and FatPaddler.com. Listen to the 8 minute broadcast here.
26 July 2010 – A feature on the Fat Paddler written by Melinda Ham ran in the Sydney Morning Herald before being syndicated across the Fairfax national network. Full story here.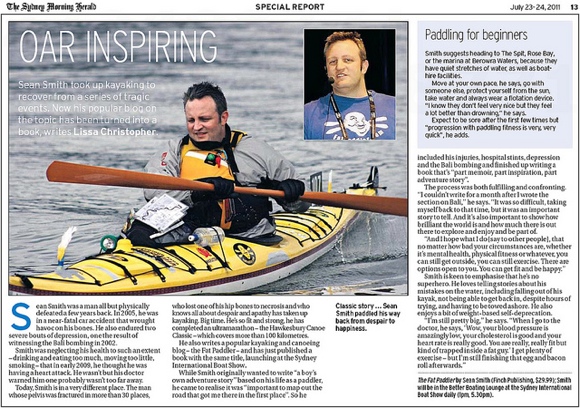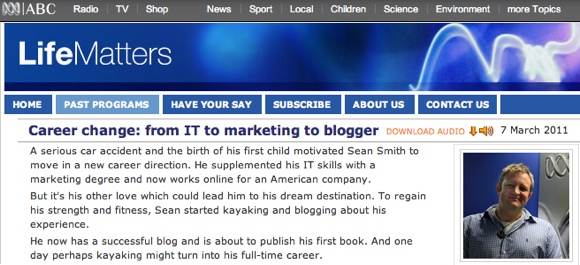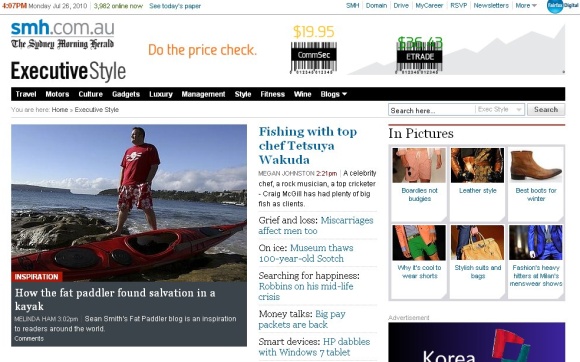 The Fat Paddler ebook – available now on iTunes, Amazon & Kobo.