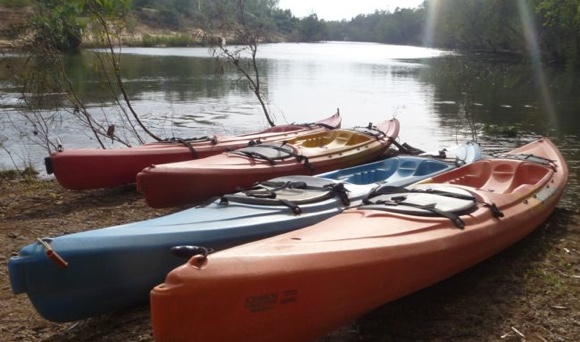 Guest Post by Nat Bradford representing Team Fat Paddler in Australia's top end
In his usual casual way, Fat Paddler dropped a casual email a few weeks ago asking if any team members would like to take on a casual paddle in a casual river in the Northern Territory, all casual expenses paid. I managed to blitz my team members and respond in .37 of a second that, "hell yes", I most certainly would.
Thus started a remarkable trip into Australia's beautiful Northern Territory, and some of the fantastic experiences that followed will remain with me forever.
A late flight to Darwin and a coach trip south to Katherine found me in my starting location, Katherine. Met by our hosts and guides from Gecko Canoeing and Trekking we were taken to our accommodation and readied for what lay ahead.
The first day saw us do a guided boat tour up Katherine Gorge. I had never been before, and I was just blown away by how ruggedly stunning it was. The water was dropping, but it was just awesome to think that the river were heading up peaks some 20 metres above where we were currently gliding along its surface.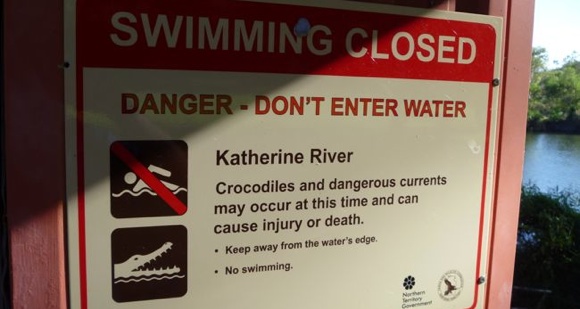 It also reminded me that Katherine River is home to freshwater crocodiles, and on a good day, some rogue saltwater crocodiles as well. Apparently, they can cause "injury or death". Reassuring.
In the afternoon, we got a lesson in first Australian culture at gallery and experience destination Top Didj. It was a back to basics experience, and I learnt a little about the local people, their lifestyle and got to share in a very small amount of their teaching. It was humbling, relaxing and refreshing. I don't think Albert Namatjira's estate has anything to worry about from my attempt at art.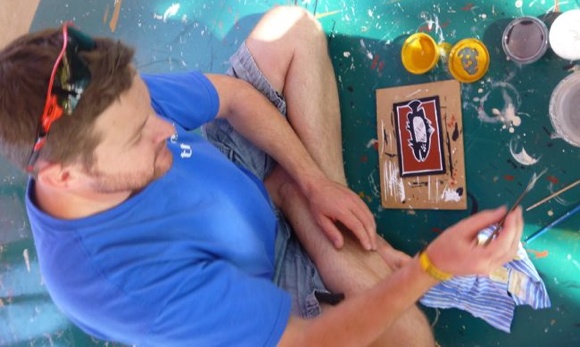 Nor, if we required to start a fire from scratch, or heaven forbid, hunt and catch our own food, we'd have been eating raw grass.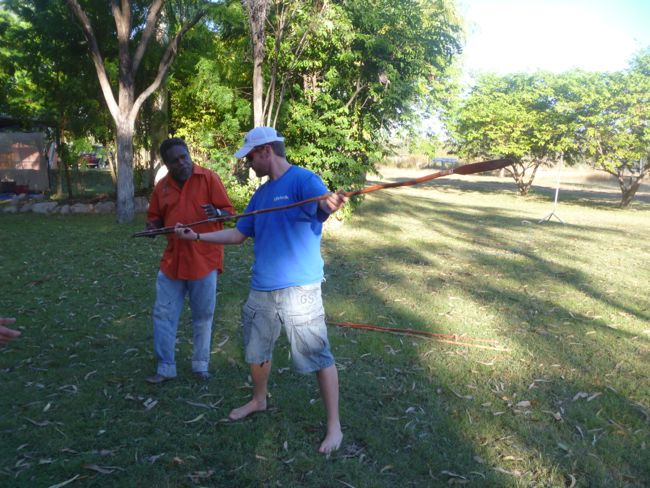 That night, we had a bush feast at an outdoor camp oven restaurant and were entertained by our host with tales of emus that supposedly ran up gumtrees and grey nomads, semi-nude on the back of vicar's motorbikes – yes, you had to be there.
So after a good night's sleep, we set for our first day on the water. After a briefing about the river, the things that flew above it and those things that swam in it, we were off down river.
The Katherine River itself while I was there in early May 2012 was extremely docile. It's not always like this, but we were fortunate to have very easy and relaxing paddling conditions with some small bumpy bits along the way.
Guided by tour leader Matt, for whom nothing was too much trouble, our paddle group consisted of myself, a photojournalist from Australian Geographic, a journalist from Get Lost magazine, and a gal from the States. Only Matt and I had paddled before.
Our boats were open top Ocean Kayak Scupper Pros – a little different to the Think Evo II surf ski I usually get around on to say the least. And no wing paddle either!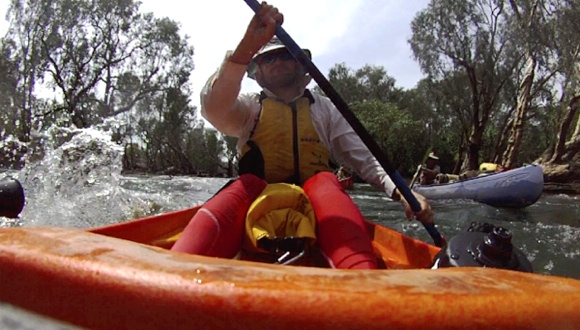 But after the first run over rocks and water that didn't look like perfect glass, it became apparent these were the absolute best kit for the job.
The weather was hot, but not unbearable, and I'd come prepared with long sleeve cotton shirt and my paddling pants and ocean booties. In hindsight, a singlet may have been smarter. I also had my very fashionable bucket hat and Oakley Radarlock sunnies – I was stylin'.
It wasn't long before we hit "rapids" – now by whitewater standards, this was bathtub stuff, but it was a heap of fun.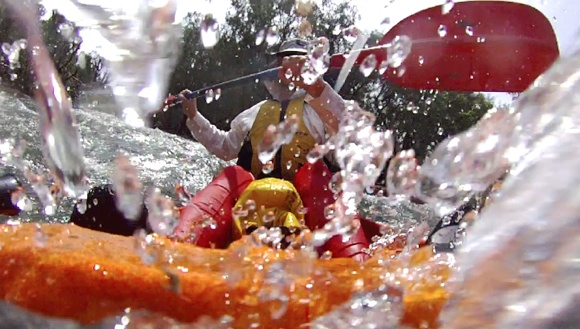 So after 20kms of beautiful scenery and only one croc sighting, we settled in for the night on a sandbank next to a small rock bar. The sunsets on the River will never be done justice by photographs, but I tried. After a feed of Barramundi it was off to bed in a swag under the stars was a perfect end to the day. I even had a wildife encounter of my own whilst collecting firewood – the world's luckiest or unluckiest frog, depending on your perspective. (to be continued)