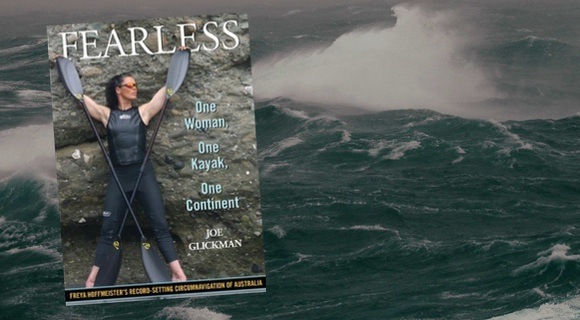 In 2009 when I took up kayaking as a way to rebuild my health, I came across a remarkable undertaking – a German woman by the name of Freya Hoffmeister was kayaking around Australia. Like so many other paddlers I got hooked by the story, checking her blog every few days to see how she was going, right up until the grand finale when she took the record for the fastest kayak circumnavigation of our Big Island.
The full, "semi-authorised" version of that story is now out in paperback, written by Brooklyn marathon and surfski paddler Joe Glickman who starting recording thoughts on both the paddler and her adventure right from the outset. Glickman clearly has a mixed reaction to the narcissism and pig-headedness of the Teutonic woman whose fearlessness and drive for success pushes her on to achieve truly incredible feats of human endurance.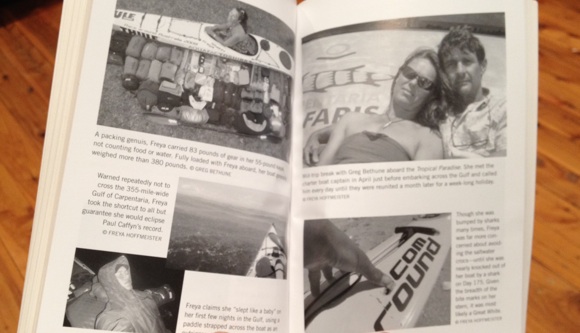 The story is told through Glickman's own eyes as he ranges through cycles of cynicism, annoyance, concern, jealousy and eventually a begruding respect for a woman seemingly so pre-occupied with her own no-holds-barred approach that she loses her sense of connection to the people around her. Her heroics and bravery in the face of terrifying ordeals are impressive, but it is the small glimpses into her need for a partner and her closeness with both her father and son that show there is a human side to this machine-like woman.
Freya's own blog tells little of the scenery or history of the nation she circumnavigated, but fortunately Glickman does a good job of filling in the historical, cultural and scenic gaps. His own descriptions of Australia's dangerous animals and his first experience with an Australian Blue Bottle are hilarious to those of us who live here, but a fair warning to international visitors to Australian shores. Whether funny or serious though, his descriptions expose just how dangerous the expedition was.
The book is a rollicking good read that pokes fun at many of the big names in paddling and adds a fair dose of colour to a story that deserved to be documented for prosperity. Whether you agree with Freya's approach to life or not is irrelevant, the fact is that her feat was one of the greatest paddling achievements of all time. Cheers, FP
Note: If you're having difficulty finding a copy locally, you can always order Fearless on Amazon