Fat Paddler hits the Northern Territory! (continued from Part 1) by Nat Bradford
Dawn on day two was spectacular. The crisp evening gave way to sunrise and the mist rose from the river. After a cooked breakfast and three coffees, we packed camped and headed off on the next leg.
I decided shorts might be a better option because it was pretty warm, and I also needed something to mount my rear facing Contour video camera on. The river was living up to its unpredictable best, fast flowing and flat one minute and mini-rapids the next, which was cool.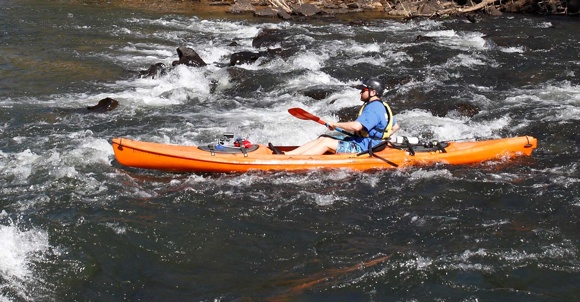 We saw a couple of freshwater crocodiles, but the professional photographers were far quicker in catching them on film before I barely caught a glimpse of them. They were mainly small freshies, in the two to three metre range. They were far more scared of us than we were of them, which is good, because I was reasonably apprehensive before the first sighting. I was scared all over again when I saw what they use to catch rogue saltwater crocs this far down the river. Picture in your minds eye a 10 metre long Amplimesh cage, open at one end with a large piece of meat dangling in the other end just above the waterline. Matt, the guide, helpfully pointed out there hadn't been "many" pulled out this year, but there had been some more than six metres in length recorded. As I said before, happy we didn't see any of those.
But to tempt fate, we fished for barramundi anyway. Needless to say, I managed to catch my shorts, the kayak and the snags underwater. Right on cue, Matt said he hadn't caught a barra this season – no sooner had the words escaped his lips, he was on and duly reeled in an "undersized" one. The unluckiest wildlife jinx continued for this fish, but he was released without incident. Brendon managed a quick pose with the fish before we let him go again (the fish, not Brendon).
We made camp in another beautiful spot, watched the sunset, and were treated to a camp oven roast dinner, complete with a set dinner table, tablecloth and all. A nice touch for us city softies.
The night was again pretty cold, but the swags did their jobs admirably – I've since bought myself a new one based on this experience. Love swags, love sleeping out, which has surprised the hell out of my wife of 11 years. I'd previously said I'd rather remove a testicle than go camping. Strange how things can change.
The morning light show was again spectacular and we took turns taking pictures of each other paddling in the beautiful morning light. Can't wait to see how the professionals' pictures turn out! My less professional photo gallery is on Facebook here and here.
As my fashion sense was called into question several times on the trip and since, I went minimalist on the last stage and this pic shows me why I should have stuck with the collared shirt.
Our last day went way too fast as we seemed to speed towards our end point. We did several paddles back upstream to get the best light for pics for the professionals, which I could have happily done for hours, which was good because Brendon, or the Photo Fuhrer as he became known, was very particular.
At the pull out point, we assisted with the loading of the trailer and got back in the troop carrier for the journey back to Katherine. An esky with ice cold soft drinks and chocolates was a very welcome treat at this stage.
But even at the loading stage, there was a final reminder that you're in the bush, and it is in charge at all times.
We spent three glorious days paddling a stretch of water most of the world never gets to see. It's rugged, it's beautiful and it's right here in our own Northern Territory, only a couple of hours out of Darwin and right on Katherine's back doorstep. It wouldn't have been possible without guide Matt, whose professionalism, calmness and total ease with his surroundings made the trip a true pleasure. My fellow companions, none of whom had paddled before, all shared a brilliant experience.
Thanks again to Gecko Canoeing and Trekking and to Tourism NT – I'll happily come back and paddle anything else you've got!
Cheers, Nat