Team Fat Paddler's southern NSW paddler Mick Rees has fallen in love with the Fenn Blue-Fin. Find out why in his review below. Cheers, FP
One of the traits of being a paddling tragic is an obscene predisposition to paddling all types of kayaks or surfskis in various water conditions, locations and extreme weather. I fancy myself as a reasonable paddler and enjoy the seclusion of paddling a meandering coastal river or the gut wrenching extremes of a heavy ocean swell.
At around the 25kg to 28kg mark, many of these boats are pretty hefty. Whilst I can catch runners in them it takes a lot of effort and energy, so I've had an inclination to try a number of beginner or intermediate surf skis over the past twelve months.
Recently I read a review of the Epic V8 Series 2 surfski which tickled my fancy. Having paddled a few of the previous model V8s over the Summer I could attest to their "beginner" moniker, so I began to ask questions of the local ski fraternity on what they believed to be the best beginner surfski to paddle. One paddler asked if I'd heard of the Fenn Blue-Fin, as it had been getting excellent word-of-mouth reviews, and in particular people were talking about how super-stable and light it was.

After contacting Fenn's Australian partner Ocean Paddler I was put on to Ian Timbrell, their local dealer in the Illawarra. A quick phone call was made and Tim organised a demo Blue-Fin for a week.
I decided to take it for its first paddle the following morning on my favourite flat water paddling location, the Minnamurra River on the NSW South Coast. The Minnamurra is a tidal river with a very strong flow in parts, especially at the entrance. Conditions were good with an incoming tide and a bit of swell. Most importantly, two good mates, Kevin and Steve were coming down with me in their Seaward sea kayaks.
On arrival at our usual launch point I had the opportunity to have a good long look at the Blue-Fin for the first time in the bright light of day. I liked what I saw.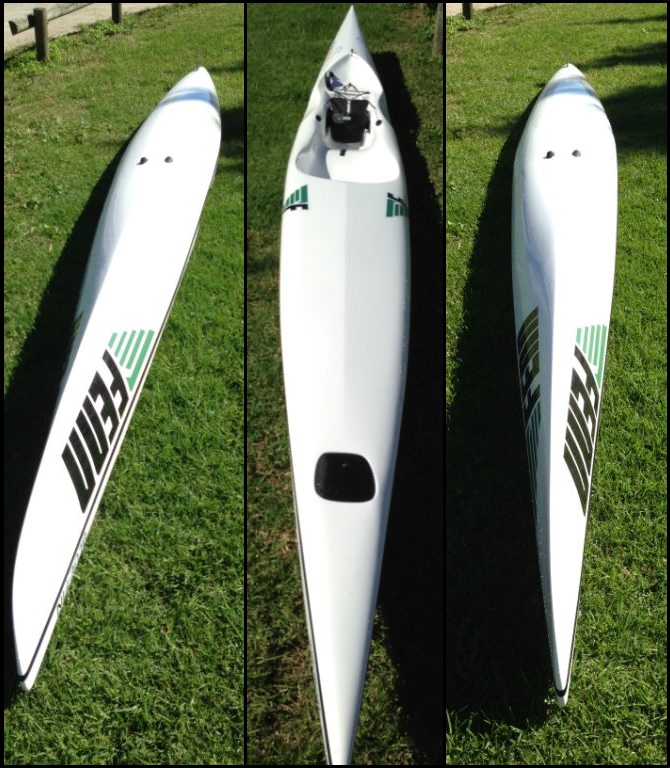 What immediately struck me was that from the bow to the back of the cockpit it was pure surfski, from the cockpit to the fin housing it was almost kayak-like, and then from the fin housing to the stern it tapered much the same as a "normal" ski. It doesn't take a rocket scientist to work out the 1.5m behind the cockpit is likely where the stability is coming from. Fenn are marketing this boat as a transition craft from sea kayak to surfski which is a pretty big call in my books. That phrase usually equates to getting constantly wet!
Anyway, down to the water I go. At 14kg the glass vacuum boat is a breeze to carry under my arm or on my shoulder. Just don't try to carry it past the cockpit unless you have the arms of a gorilla, as it is 53cm at its widest point!
After plonking it down in the water I began to look at the adjustment for the foot board and pedals. Another Fenn paddler came over and showed me how to do it (got to love the fellowship of the paddle!). It was a simple matter of twisting a cord to release the adjusting pins and pulling on the foot strap… too easy.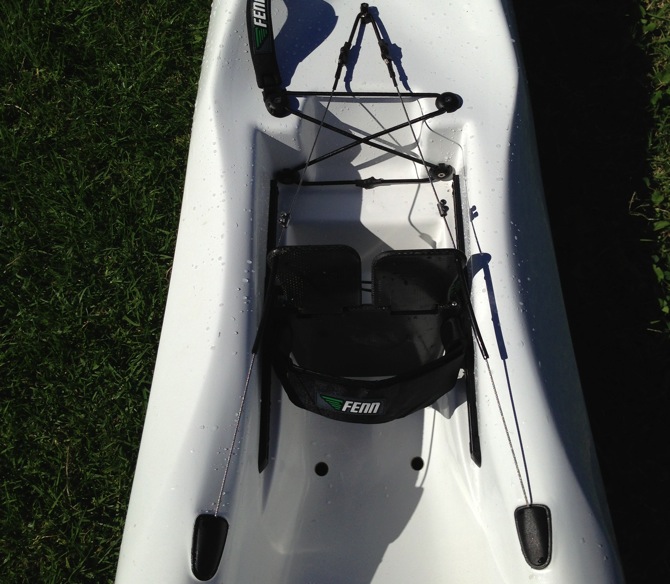 After adjusting the foot board/pedal assembly, it was now the moment of truth. Those that know me know that I am a big boned, ex-rugby scrum half that graduated to the front row and am therefore a fine specimen of Team Fat Paddler. I plopped my bum into the seat and was absolutely gobsmacked.
The Blue-Fin has stability in spades and not once did I feel the need to brace. I paddled out into the middle of the river and just sat there, rocking the boat from side to side using my hips and not feeling like I was going to tip out at all. I must have had a grin a mile wide on my face as a couple of K1 paddlers came flying past with a cheery "good looking ski".
The next thing that surprised me was the turn of speed I was able to get up to against an incoming tide. I've paddled a couple of V8s, one on this same river, and the Blue-Fin definitely feels faster. In my opinion the Blue-Fin's 0.5m extra length and the 14kg weight of the glass vacuum layout may be contributing to this.

Down at the entrance it was a full-on run-in tide, helped along by a small 0.5 to 1m swell at the Bar. I paddled pretty hard into it and managed to get to the first line of breakers. While conditions were not good for surfing due to the tidal flow, I did manage to get onto one small wave, surf down its face and cross the Bar back into the river.
This is where I discovered the only failing I had with the Blue-Fin…its actual "fin". The rudder it was provided with was great for flat water or inshore chop, but was not confidence-inspiring in waves. Stability was not an issue, but it didn't "dig in" on directional changes in rougher water and I felt it needed to be longer and a bit thicker. Thankfully Fenn make a longer surf rudder for the Blue-Fin which would fix this.
The paddle back up the river with the run in tide was the fastest transit that I have ever done. I knocked nearly 3 minutes off my previous best and that was at a cruising paddling pace.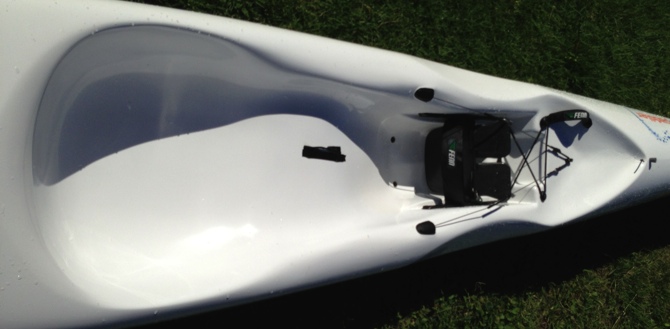 The following day I took the Blue-Fin offshore out of Wollongong Harbour to get a feel for its capabilities in a small north east ground swell. No real surprises here, head-on into the swell and with its 34cm height hardly any water entered the cockpit. Any water that did was quickly dispatched by the venturis. Again I found the Blue-Fin a bit sloppy on the runners due to the small fin – I'll need to try again once I get my hands on the surf rudder.
I then tested its characteristics in the rebound off the harbour break walls and encountered no issues there. I even came to a dead stop and simply braced when I felt the need. Try doing that with a high-end surf ski and the odds are you'll get wet.
My overall impressions; the Fenn Blue-Fin is an awesome surfski, not only for beginners but I reckon it will be an absolute hoot on runners and riding big swells. With its surfski front end and its 53cm width at its widest point, it will probably handle just about anything you could expect offshore within reason.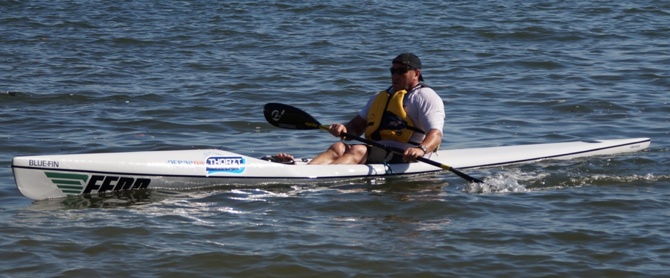 This ski also has the makings of an excellent long distance boat. With a generous 44cm cockpit, comfortable foot-well, inherent stability and a reasonably flat deck behind the cockpit, this ski can go places and distances comfortably at a reasonable and if need be, competitive pace.
I've mentioned the term super stable a couple of times. I tested that out by paddling at speed towards the shore and leaning it over to the left with no brace to test its secondary stability and find its tipping point. But it didn't tip, even though I had water pouring over the side of the cockpit at the cut-out as I cruised into the beach. By rights it should have gone over several metres out. Yep… the Blue-Fin is super-stable alright… in spades!
Will I buy one? Yes. I'm going to do exactly that because I am an older and wiser paddler who wants to enjoy paddling a surfski in all conditions without having to concentrate on keeping upright. The Fenn Blue-Fin will enable me to do exactly that. Cheers, Mick
Sub-Lieutenant Mick Rees SBLT (Sydney, Australia)
HC12, SS13
Mick has that motorcycle-riding enforcer look about him, unless he's paddling, when he looks more like a motorcycle and kayak-riding enforcer. He smiles a lot at you… but then again so do lawyers and sharks!

The Fat Paddler ebook – available now on iTunes, Amazon & Kobo.