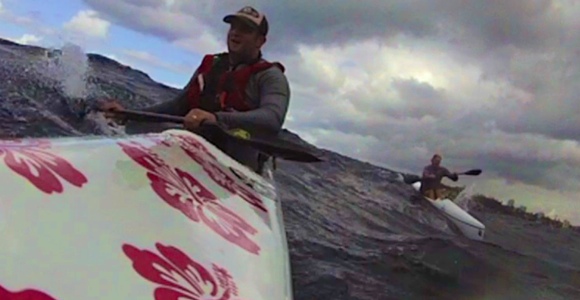 I've been incredibly lucky over the years to have met and been coached/mentored by some incredible paddlers. When you think about it, I've had rock gardening lessons with Tsunami Ranger legend Jim Kakuk, rolling classes with Greenland rolling legend Helen Wilson, spent time with World Record Holder Joe O'Blenis in Canada, and mixed it with the World's best surfski paddlers in Mauritius.
Sometimes though the people that have the biggest impact are the quiet achievers. Paddling mate Malcolm Hall (the man behind Carbonology Australia here) is a softly spoken giant of a man who has been paddling offshore for much of his life down the coastline of his native Natal in South Africa. You don't see him on the water racing much, and you never hear him talking himself up. But when you get on the water with him it takes no time at all to realise his mastery over the ocean ski.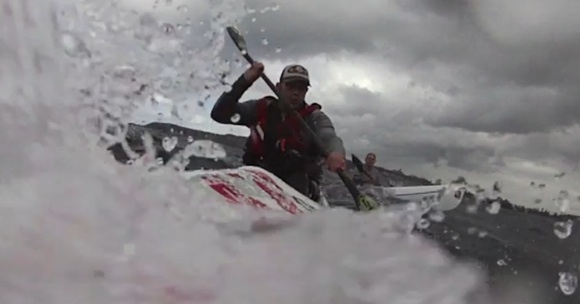 Malcolm has followed my surfski journey from the beginning. He's offered countless advice as well as shadowed me in my early races, keeping a watchful eye on my progress. He's not a flat water man though, really only loving the bumps, spray and sheer speed of downwind paddling, and during my preparation for Mauritius gave me invaluable advice on preparing for rough water paddling.
Now that I've returned from Mauritius, I've been impatient about wanting to head back out to sea, and Malcolm didn't need much prompting when I suggest he take me out for a downwind lesson. Ok sure, the conditions were big and gnarly, I nearly didn't even make it out from our launch point at Manly Beach, and when I got out in the wind & waves I was distinctly out of my depth.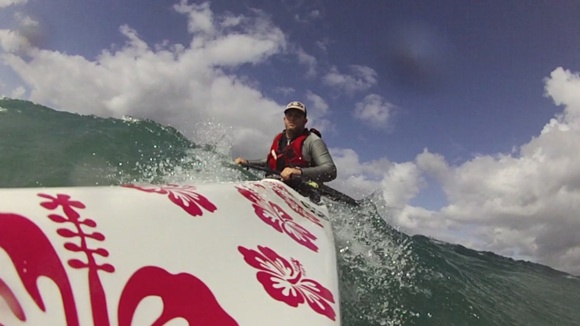 Despite that, it was awesome. Malcolm explained the shapes of the water to me, pointing out the spots to my right and left that were forming the right dips and curves and yelling at me when to accelerate to get on the waves. For the first half hour at least I'd accelerate onto runs, try desperately not to fall off my ski, then slow down to take a bit of a breather. Malcolm would find something magic in front of his ski and take off like a rocket, latching onto runs and speeding away from me before slowing down and letting me catch-up.
It wasn't all smooth paddling of course. After a while I was exhausted and started falling off the ski. I lost count of how many times I fell off, and eventually needed Mal's assistance to get back on. After a while when it was clear I was almost too exhausted to get back on my ski, Malcolm suggested we make straight for land and the northern end of Curl Curl beach…. and area where the ocean swell was exploding into massive surf.
Needless to say I got most of the way there with Malcolm's guidance. Once we hit the break line I was fairly terrified of the huge waves rolling in and breaking, and Malcolm, knowing I was going to get smashed, had hatched a plan that would hopefully see me get smashed over the sandbar and out of the rip. I had other plans of course, falling out too early, getting stuck right inside the rip, and losing my ski to the surf.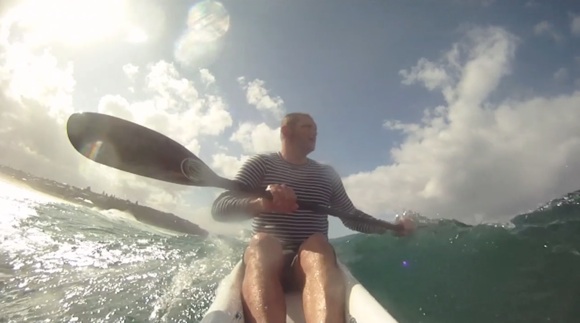 If ever I felt vindicated in wearing my PFD, this was the time. The surf smashed me over and over again as the rip ran me south parallel to the beach. Between sets I conserved energy by floating on my back holding my PFD, preparing for the next set to come in and hammer me. After what seemed like an eternity in the rip, I got enough forward momentum tumbling in the froth of another huge breaker to get my feet on sand and slowly, I managed to drag myself out of the surf and to the safety of dry land.
Malcolm meanwhile had somehow surfed safely straight into the beach, stripped down and plunged back into the surf (and rip) to retrieve my Carbonology paddle, before swimming back in to check on me. Then to top it all off, he ran the 6km back to his car in Manly barefoot. Legend!
There were a few lessons to be learnt today. Downwind paddling is a smart, tactical way to paddle, where watching the water is crucial. Fitness is a must. Being a strong swimmer is a must! And being able to accelerate quickly onto opportunistic bumps on the ocean is critical. I felt a real sense of love towards my PFD, and of course was thankful to get to paddle with such an expert of downwinding. All that, and Malcolm is just a great bloke to hang out and experience the water with – I can't really ask for more than that! Cheers, FP
Note: FP was paddling a Stellar SR surfski, Malcolm the new Carbonology Flash surfski
Here are the video highlights – blow it up to full screen and crank up the volume!